Author: R.J. Anderson. Release date: 2011. Publisher:

Carolrhoda Books. ISBN: 9780761374086.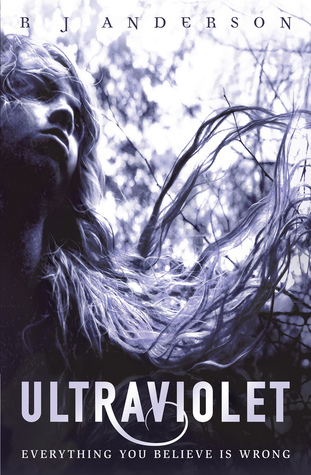 Annotation:
After her classmate, Tori Beaugrand, disintegrates in front of her, sixteen-year-old Alison Jeffries finds herself as a patient at Pine Hills mental hospital and a suspect in Tori's murder.
Personal thoughts:
I had heard mixed things about this novel and when I began reading it I had very few expectations. Within the first chapter, however, I was hooked. R.J. Anderson's writing style is spot on, and I loved how the story wasn't melodramatic. I was fascinated by Alison and her abilities, and think that they will make for a very strong series. I truly did not see the "twist" in the novel coming, and felt like I was on my toes throughout the story. I'm really looking forward to the sequel, and plan to recommend this novel to teens who want something different, original and entertaining.
Plot summary:
All her life, Alison Jeffries has been able to see, taste and smell things no one else can. When she listens to music, the notes form rich, colorful patterns in the air. Certain letters leave a disgusting taste in her mouth and some words are as delicious as chocolate. When she was a child, her mother told her never to talk about what she was seeing, making Alison think that her visions were crazy. Now she is sixteen, and Alison has spent her life trying to hide her abilities from the world, turning her into a loner at school. No amount of preparation can prepare Alison, however, for what happens one fateful afternoon behind her high school. Tori Beaugrand, a beautiful, popular, out-going student, and Alison get into a fight. Longtime rivals, Alison has had enough of Tori's bullying and, more than anything, the harsh noise Tori gives off that no one else can hear. After Alison punches Tori, something she never dreamed of doing, something horrible happens: Tori disappears. Tori's disintegration, coupled with the most unbearably painful noise Alison has ever heard, is more than she can handle. Alison awakens days later in the hospital, her body bruised, and learns that Tori is missing. Convinced that she killed Tori, but not sure how, Alison is moved to Pine Hills, a institution for teens with mental illness. Now that she is a suspect in Tori's murder and under constant surveillance from her doctors, Alison begins to wonder if her mother was right. Is she truly insane or is their more to her abilities and what happened to Tori than she realizes?
Review:
Part Girl, Interrupted part A Wrinkle in Time, this first installment in R.J. Anderson's new series for teens offers something slightly more cerebral yet thought-provoking than the usual young adult novel. From the start, the reader, like Alison, is not sure what is truth and what is fantasy. Alison sees beautiful, flowing colors when she hears sounds, she ascribes tastes and sensations to words and numbers, and she smells emotions. The author's descriptions of these abilities are very well-done and seem realistic enough to raise the question of whether or not she herself experiences what Alison does. At first slightly un-settling, readers will eventually get used to Alison's interesting sensations, and appreciate the crucial part they play at various points in the story. Alison's experiences in the Pine Hills mental illness facility also raise questions for the reader: is she crazy? Does she belong in the facility? Will she ever be released? These, along with the more science-fiction aspects of the novel, combine in an interesting way that makes for an original and unique story that will hold great appeal for the right type of reader. The second novel in the series, Quicksilver, is set to be released on September 6, 2012.
Similar titles:
The Sleepwalkers
by J. Gabriel Gates, Tighter by Adele Griffin, The Unbecoming of Mara Dyer by Michelle Hodkin, Shatter Me by Tahereh Mafi.
Themes:
Mental illness, mental hospitals, murder, synesthesia, sanity vs. insanity.
Awards/Reviews:
Positive reviews from Kirkus, Publishers Weekly and School Library Journal.
Series Information:
First installment in Ultraviolet series. Second novel, Quicksilver, set to be released September 6, 2012.
-
Why do you think Alison's mother didn't want her to talk about her abilities?
-

Do you think Alison should have been a patient at Pine Hills? Why or why not?
-
Research "synesthesia." Is it a real condition?
-
Were you surprised to learn the truth about Faraday's research study?
-

What would you like to see happen in the sequel?