Author: Becky Citra. Release date: 2010. Publisher: Orca Book Publishers. ISBN: 9781554692460.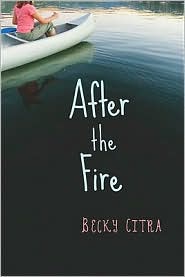 Annotation:

Haunted by memories of the fire that destroyed her family's trailer, Melissa's life is changed forever when her mother, a recovering alcoholic, takes her and her brother, Cody, to stay at a remote lakeside cabin for the summer.



Personal thoughts: I was surprised by how much I enjoyed this novel. Melissa is an extremely realistic and honest main character, especially for a story written for 'tweens. Her anger at her mother, Sharlene, is very real, and many readers will, unfortunately, be able to identify with the situations Melissa experiences. After the Fire touches on some very advanced topics, but does so in a way that makes them appropriate for young readers. The novel definitely creates some talking points between parents/teachers and 'tweens about alcoholism, neglect, death and family relationships. I would recommend this novel for readers interested in a realistic story.
Plot summary:
Eleven-year-old Melissa lives with her mother, Sharlene, and her four-year-old brother, Cody, in a cramped apartment. Melissa doesn't trust Sharlene, a recovering alcoholic, and is haunted by memories of a terrible fire that destroyed the trailer her family shared with Sharlene's former live-in boyfriend, Darren. When a family friend offers Sharlene a lakeshore cabin to stay in for the summer, Melissa is skeptical. Sharlene, Melissa and Cody travel to the remote location; Melissa is annoyed by her mother's enthusiasm for the woods, the cabin, and the canoe she assures Melissa she will love paddling around the lake. Shortly after arriving, Melissa meets Alice, a girl her age, while exploring the island in the middle of the lake. Alice seems strange, but Melissa finds the fantasy world she creates to be interesting. As she spends more time with her mother and makes her first true friend in Alice, Melissa learns that holding onto her anger might not be worth the effort. And, as she learns more about Alice, Melissa wonders if perfect families exist only in fairy tales.
Review:
This surprisingly poignant novel provides an utterly realistic look into the life of a girl who, through tragedy and hardship, lost the innocence of childhood too early. The fragile relationship between Melissa and her mother, Sharlene, is at times heartbreaking. Sharlene desperately tries to make up for past wrongs, and Melissa resists her at every turn. Their time at Flycatcher Lake, despite Melissa's annoyance at having to spend her summer in a remote cabin, proves to be a therapeutic experience that brings the little family closer together. The character of Alice is also quite interesting. It is clear from the beginning that something is not quite right with the unusual girl. The descriptions of her family appear too perfect, and Melissa catches her in some lies early in their relationship. When Melissa discovers that Alice's life is even less ideal than her own, it presents a lesson not only for her, but for the reader, that the "grass is always greener" notion, in reality, never pans out. This is just one of the reasons why After the Fire is a wonderful novel for young readers. Although it covers some sophisticated topics, alcoholism, neglect, death, Citra does an excellent job of making the story appropriate for younger readers. A very thought-provoking book for 'tweens.
Themes:
Family relationships, neglect, truth vs. fantasy, anger.
Awards/Reviews:
Positive review from VOYA and Booklist.
Series Information:
None
Discussion Questions:
- Do you think Sharlene is a good mother? Why or why not?
- What does the title "After the Fire" mean to you?
- Why do you think Sharlene takes her children to spend the summer at Flycatcher Lake?
- What was your first impression of Alice?
- Why do you think Alice tells Melissa the stories she does?