Author: Sienna Mercer. Release date: 2007. Publisher:

HarperCollins. ISBN: 9780060871130.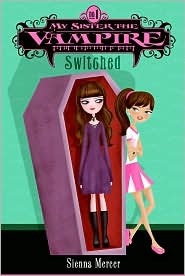 Annotation:
Olivia Abbott is determined to make the most of being the new girl at Franklin Grove middle school. Little does she know that new friend, goth-girl, Ivy Vega, is actually her identical twin sister…and a vampire!
Personal thoughts:
I have to admit that I felt pretty silly wanting to run and get the next installment in this fun and interesting series. I think that these books are a wonderful substitute for younger readers who may not be ready to venture into vampire novels like Twilight or The House of Night series. I would highly recommend these to tweens who want something sugary with a dash of gothic.
Plot summary:
Bubbly middle-school cheerleader, Olivia Abbott, is determined to make the best of her family's move to a new town. She starts school and immediately seeks out the cheerleaders to befriend. It seems that the popular girls at this school, however, are not the nicest people in the world. One day, Olivia meets goth girl, Ivy Vega. Ivy is the opposite of Olivia: she wears black clothes and thick eyeliner, and is far from the cheerleading type. As Olivia gets to know Ivy better she makes a startling discovery: Ivy looks a lot like her, in fact, she and Ivy are identical twins! Things get even weirder when Olivia learns that their fashion choices aren't the only thing different between them: Ivy is actually one of many vampires who call Olivia's new town home. Despite their differences, Olivia and Ivy become close, and decide to help each other out, even if they have to switch places from time to time to do it! But can a vampire and a cheerleader really pose as one another without getting noticed?
Review:
Switched
is the first novel in Mercer's My Sister the Vampire series which has since been followed up by five additional installments, with two more being published in 2011. It is a very interesting and original story, with likeable characters and a believable setting. Ivy and Olivia have a pretty fantastical story, but they deal with issues that are common in middle school: crushes, bullies, peer pressure, and self-confidence. The vampire aspect of the story only adds to the fun. Although this installment of the series does not go into too much detail about exactly how Ivy and Olivia were separated at birth and why Ivy is a vampire but Olivia isn't, Mercer manages to make the reader care enough about her characters to want to find out how they came to be in their situation. A very good start to a popular series for tweens.
Genre:
Fiction/Vampire-Fiction
Similar titles:
Other titles in the My Sister the Vampire series by Sienna Mercer. This Totally Bites (2010) by Ruth Ames. Monster High (2010) by Lisi Harrison.
Themes:
Twins, vampires, middle-school, sisters.
Awards/Reviews:
Positive reviews from Publishers Weekly and School Library Journal.
Series Information:
Part of My Sister the Vampire series by Sienna Mercer. Titles: Switched (2007), Fangtastic! (2007), Re-Vamped! (2007), Vampalicious (2008), Take Two! (2011), Love Bites! (2011), Lucky Break! (coming in 2011), Star Style (coming in 2011)
Discussion Questions:
- Who do you identify with more: Olivia or Ivy? Why?
- Do you think the vampires in this series are different or similar to the traditional idea of the vampire?
- What are some other stories, TV shows, or movies with twins? Why do you think twins are commonly featured in fictional stories?
- Do you think it's right for Ivy to pose as Olivia and vice versa? Why or why not?
- What are some situations you would like to see Ivy and Olivia pose as eachother in?