Author: Michael Ford. Release date: 2011. Publisher:

Albert Whitman & Company. ISBN: 9780807565896.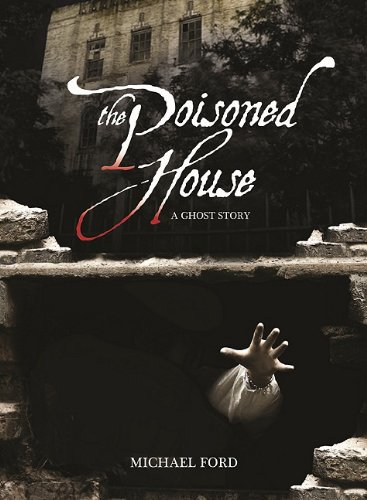 Annotation:
Abi Tamper is a scullery maid in 1850s London who wants nothing more than to escape her life of hardship and abuse. When she suspects her ghost has started to haunt Greave Hall, however, Abi won't stop until she uncovers the truth about her mother's death a year earlier.
Personal thoughts:
I have to admit that the cover of this novel was really what drew me in to reading it. As a huge fan of both historical fiction and ghost stories, however, I was just as pleased with what I found in the pages. Ford did a wonderful job of crafting a very succinct but enjoyable novel with a well thought out plot and characters. I also enjoyed the story being from the perspective of the servants, which isn't as often the case in young adult historical fiction novels. I look forward to seeing what else Ford comes up with.
Plot summary:
Fourteen-year-old Abigail "Abi" Tamper wants nothing more than to escape the hardship she lives through every day as a scullery maid in 1850s London. Orphaned after her mother's death a year earlier, Abi suffers constant abuse from Mrs. Cotton, Greave Hall's housekeeper and sister-in-law to Lord Greave. Some of the small consolations in Abi's life include Lizzy, her best friend and fellow scullery maid, Adam, the kind coal delivery boy, and Sammy, Lord Greave's only son who has been like a brother to her for most of her life. Abi's mundane existence is turned upside-down, however, when a ghostly presence begins to make itself known in the dark rooms of Greave Hall. Mysterious handprints, strange noises, and missing objects are just a few of the strange happenings that plague Abi and the rest of the staff. Abi is convinced that the ghost of her mother is haunting the mansion, trying to warn her that she is in danger. What secrets will Abi uncover as she tries to discover the truth about her mother's death?
Review:
This fast-paced story makes for a quick read that manages to be enjoyable both as a historical fiction and horror novel. Despite its small size, The Poisoned House dives deeply into the hardships of life as a servant in 19th-century London, which is as important to the plot as the ghost story elements. Abi, an easily likable protagonist, is subjected to constant physical, mental and emotional abuse at the hands of Mrs. Cotton, the cruel and sadistic housekeeper. Mrs. Cotton's antics are often difficult to read (from beating Abigail, to drowning kittens), but are, in all likelihood, an accurate portrayal of how the downtrodden would have taken advantage of any opportunity to demonstrate their power over the weak. The supernatural presence in Greaves Hall serves as a way for Abi to not only discover the truth about her mother's death, but to escape the toil of her everyday life. The conclusion of the novel is quite satisfying as both an end to a creepy ghost story and to Abi's constant abuse. Overall, The Poisoned House is as easily enjoyable for both teen and adult history buffs or horror fans.
Genre:
Historical Fiction/Horror
Similar titles:
Wrapped
by Jennifer Bradbury.
Themes:
Ghosts, 19th century, London, servants, murder, oppression, abuse.
Awards/Reviews:
Starred review from School Library Journal.
-
Do you think that Abi's life as a scullery maid is an accurate depiction of what it was like to be a servant in 19th century England? Why or why not?
-
Why do you think Mrs. Cotton was so cruel to Abi? What, in your opinion, was the worst thing she did to Abi?
-
What do you think the significance was of each of the ghostly occurrences (i.e. the ripped scarf, the upturned room, etc.)?
-
Were you happy with what happened at the end of the novel? Why or why not?