Author: Leanna Renee Hieber. Release date: 2011. Publisher:

Sourcebooks Fire. ISBN: 9781402260520.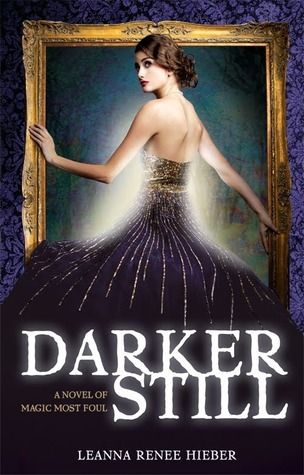 Annotation:
Seventeen-year-old Natalie Stewart's father works at the Metropolitan Museum of Art in 1880s New York City. When a strange new painting is brought to the museum, one that is rumored to be haunted, Natalie is captivated by the handsome, young Lord Denbury depicted on the canvas. Soon Natalie discovers that the rumors of the piece being alive are true, and that the painting is actually a prison, one that is holding Lord Denbury hostage.
Personal thoughts:
This novel was so full of things I loved that it almost seemed that Leanna Renee Hieber wrote it just for me! History, mythology, curses, romance, and the intriguing idea of someone being trapped in a painting…how could I not enjoy Darker Still? I was especially impressed with Hieber creating a leading lady with a very real disability. Natalie's being mute played a role in the plot, but I also liked how Hieber took care to point out throughout the novel that she was a normal teenage girl despite the fact that she had to communicate via sign language. Overall, I really loved this novel and would highly recommend it to both teen and adult readers. I'm looking forward to the next installment in the series!
Plot summary:
At a young age, Natalie Stewart witnessed the death of her mother in a tragic accident and found herself unable to speak from then on. Now seventeen-years-old, Natalie's existence is one of longing; yearning to live a normal life, have friends, and fall in love. The year is 1880, and Natalie's father works for the Metropolitan Museum of Art in New York City. One day, Natalie and her father meet Mrs. Evelyn Northe, a wealthy and kind woman with an interest in spiritualism. Mrs. Northe, like Natalie, is fluent in sign language and the two become fast friends. Mrs. Northe informs Natalie and her father that a painting with a curious history has come into her possession. It seems that late Lord Denbury, the attractive, young man depicted on the canvas, is rumored to haunt the piece. Upon seeing the painting, Natalie is immediately captivated by Lord Denbury's magnetic blue eyes and handsome features. Soon, however, Natalie realizes that there is more to her infatuation than just a love for brushstroke on canvas. Small changes in the painting catch her eye, and it seems that Lord Denbury is calling to her, begging her to reach out and touch the canvas. When she does, Natalie falls into a strange world, one inside the painting that has become a prison for the handsome Lord. It seems that an evil spell has trapped Lord Denbury's soul, while his body acts as a vessel for a sinister spirit in the outside world. Will Natalie find a way to reverse the curse and save the man she finds herself falling for?
Review:
Author Leanna Renee Hieber describes herself as a "gateway drug" for young readers into the literature of the 19th century, and her latest novel, Darker Still, proves to be an intoxicating plunge into Victorian New York City. Almost from the first page, the reader is immediately as enraptured in the story as the heroine, the mute Natalie Stewart, is with the mysterious depiction of Lord Denbury. The novel is full of many things: romance, mysticism, mythology, religion, mystery, and horror. The intricate world of the painting and exactly how Natalie and Lord Denbury fit into it keep the reader guessing as the plot unfolds. The result is a thoroughly enjoyable story that pays homage to such classics as Oscar Wilde's The Picture of Dorian Gray and Sir Arthur Conan Doyle's Sherlock Holmes. The author's passion for the Victorian era is evident in her detailed and loving portrayal of gas lamp light streets, gowns, carriages, and corsets. The first in a new series, Darker Still makes for an excellent start to something original and entertaining for teen and adult readers who are fans of gothic novels, mystery and romance.
Genre:
Historical Fiction/Mystery
Similar titles:
Entwined
by Heather Dixon, Dearly, Departed by Lia Habel, The Poisoned House by Michael Ford, Wrapped by Jennifer Bradbury.
Themes:
Curses, art, Victorian era, New York City, mythology, spiritualism, grief, demons.
Awards/Reviews:
Positive review from Kirkus and Booklist.
Series Information:
First installment in Magic Most Foul series.
-
Why do you think Natalie was unable to speak after her mother's death?
-
Do you think it is common for people to assume that those who cannot hear or speak are "dumb" as Maggie's friends assumed about Natalie?
-
Can you name all of the cultures/mythologies that were described as being involved in Lord Denbury's curse?
-
What do you think "the Whisper" was?
-
What would you like to see happen next in Natalie and Lord Denbury's story?