Author: Jeyn Roberts. Release date: 2011. Publisher:

Simon & Schuster Books for Young Readers. ISBN: 9781442423510.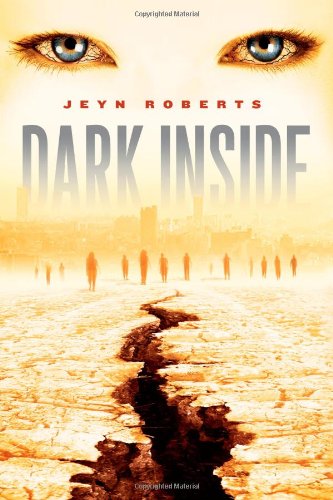 Annotation:
As earthquakes ravage the world, four teens struggle to survive after an ancient evil is unleashed, turning people into calculating and homicidal monsters.
Personal thoughts:
Wow! This was one of those novels that I really could not put down. It was absolutely suspenseful from start to finish. The characters were well-developed and the plot was really well thought-out. I am very impressed with Jeyn Roberts, especially because this is her first publication! I highly recommend this novel to both teens and adults; it is excellent and appropriate for both groups! I am dying (no pun intended) for the sequel!
Plot summary:
The day begins like any other for four teens, Aries, Mason, Michael and Clementine, who live normal lives in different parts of the US. What these four, who have never met, don't realize, however, is that their world is about to change forever. An earthquake of apocalyptical proportions ravages the west coast of America, destroying major cities including Los Angeles and Seattle. Similar earthquakes appear all over the globe, causing mass destruction and death. But the worst is yet to come. The earthquakes have unearthed an ancient evil: one that thinks and feels and is ready to hunt. Friends and family suddenly become homicidal, setting off bombs in schools, hospitals, and churches; murdering their sons, daughters, mothers, and fathers. Entire towns are executed at the hands of the few who seem to have become possessed with a maniacal force that speaks to them, telling them to carry out these horrendous acts. Aries, Mason, Michael and Clementine are each plunged headfirst into the horror that has taken control of the world and must survive as best they can. Their four stories will eventually overlap, but how and at what cost has yet to be determined.
Review:
Suspenseful and exciting from start to finish, this debut novel from author Jeyn Roberts makes for a must-read start to a new series for young adults that is perfect for those anticipating what the infamous year of 2012 will actually hold. The novel invokes many feelings and memories of famous apocalypse novels and movies of recent years, from Night of the Living Dead to The Road. Although some of the plot points are familiar, Dark Inside stands on its own as an original new take on the genre and would arguably make for a fantastic movie itself. The novel is told from the perspectives of all four teens and the additional voice of the Nothing. Although it is never clearly stated what the exact nature of the Nothing is, the reader comes to understand that the ancient evil that is ravaging the world is itself a co-narrator of the book. This makes for an intriguing twist as few apocalyptic stories actually give a voice to the means of the end. The other four narrators, Aries, Mason, Michael and Clementine, are all easy to root for and each has a unique backstory that allows to reader to genuinely care about their survival. Overall, Dark Inside is an absolute page-turner that any fan of apocalyptical or dystopian novels must read. The second novel in the series, Rage Within, will be released in September of 2012.
Genre:
Science-fiction/Horror
Similar titles:
The Road
by Cormac McCarthy, The Eleventh Plague by Jeff Hirsch, Forest of Hands and Teeth series by Carrie Ryan, Blood Red Road by Moira Young.
Themes:
Apocalypse, dystopian, possession, murder, survival.
Awards/Reviews:
Positive reviews from VOYA.
Series Information:
First installment in Dark Inside series. Second novel, Rage Within, set to be released on September 4, 2012.
-
Who was your favorite of the five narrators? Why?
-
What do you think the Nothing was?
-
What do you think happened to make people become homicidal?
-
What would you have done if you were trying to survive the Baggers?
-
What would you like to see happen in the sequel?