Author: Lissa Price. Release date: 2012. Publisher:

Delacorte Books for Young Readers. ISBN: 9780385742375.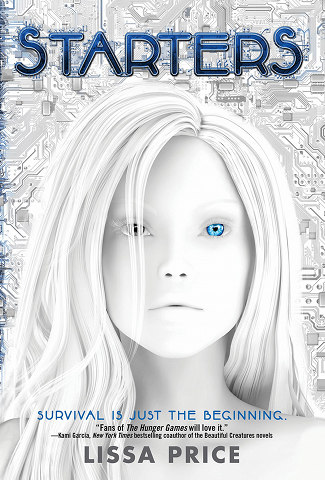 Annotation:
It's been a year since sixteen-year-old Callie and her seven-year-old brother Tyler lost their parents in the Spore Wars. Now, living on the streets with their former neighbor Michael, Callie learns of Prime Destinations: a company that pays teens to let their bodies be rented by seniors who, through a chip implanted in their brains, can live inside the teen and be young again. Callie wants the money the company can offer, but is it worth it to let a stranger rent her body?
Personal thoughts:
I am always a fan of a good dystopian novel, and this one was truly enjoyable! The book is very creative and well-written, combining some ideas I've read before with some new ones to make for a fresh story. I really liked Callie and am looking forward to seeing where the author takes her as the series plays out. I also found the support characters to have a lot of depth as well, something that adds to the strength of the novel. I can't wait for Enders to find out what happens next! I would definitely recommend this series easily to a teen reader.
Plot summary:
After the Spore Wars took the lives of her parents, sixteen-year-old Callie Woodland and her seven-year-old brother Tyler were forced to flee their home for a life on the streets of Los Angeles. Since the only members of the population who were able to receive vaccinations against the biological bombs were children and the elderly, North America has been reduced to Starters, teens twenty and under, and Enders, seniors eighty years and older. Unclaimed minors, those without grandparents or other living relatives to be their guardians, live in abandoned buildings and survive off scraps, anything to avoid capture and imprisonment in one of the state run institutions for orphans. Callie and Tyler, along with their friend Michael, have survived for a year on the streets, but just barely. Tyler has a medical condition, and Callie isn't sure how much longer he can live off of food found in garbage cans and water stolen from drain pipes. Everything changes, however, when Callie hears about a company called Prime Destinations. Since modern medicine has allowed the Enders to live well into their 100s, many are seeking ways to recapture their youth. Prime offers wealthy Enders the chance to rent the body of a teen donor, who, for a hefty payment, allows the company to implant a microchip that allows the renter to live in them while the actual mind of teen enters a sleeplike state. Callie is concerned by the thought of some 150 year old Ender woman controlling her, but the money she would earn could get her, Tyler, and Michael a home, food, and medicine for years. Should Callie donate her body to Prime Destinations for the chance to give her brother a better life?
Review:

The sea of young adult literature has recently been swarmed with dystopian novels, some better than others. Starters, the first installment in a new series by Lissa Price, is, fortunately, one of the better ones! Set in the not-so-distant future following a catastrophic war, Callie Woodland's world is divided. At one end are the Starters, teens and children who were able to get vaccinated against the biological weapons. At the other are the Enders, seniors who were also vaccinated and survived the war. For those teens and children who survived and were lucky enough to have a wealthy, living grandparent or other Ender relative, life is good. For those who lost their parents and had no one else to claim them, however, life is very much survival of the fittest. Many elements of this story are reminiscent of The Hunger Games: Callie is a strong female figure who provides for her younger sibling, there is a harsh police force that Callie must outwit, and there are those who live a lavish lifestyle, oblivious to the plight of the unclaimed Starters. For these reasons, but also because it is simply a good story, fans of The Hunger Games might find just the series they are looking for to continue in the vein of Suzanne Collins' trilogy. One thing about Starters that differs from The Hunger Games, however, is that there is considerably less romance in Lissa Price's story. There is a bit of a love triangle, but Callie spends most of her time trying to provide for her brother rather than choosing which boy to end up with. Overall, this is a very enjoyable start to a series that readers, both teen and adult, are sure to love. The sequel, Enders, is set to be released December 11, 2012.
Similar titles:
The Hunger Games
series by Suzanne Collins, A Long, Long Sleep by Anna Sheehan, Divergent series by Veronica Roth, Eve by Anna Carey, Legend by Marie Lu, The Pledge by Kimberly Derting.
Themes:
Dystopian, war, plague, orphans, technology, conspiracy.
Awards/Reviews:
Positive reviews from Los Angeles Times, Booklist, Kirkus, and Publishers Weekly.
Series Information:
First installment in Starters and Enders series. Second novel, Enders, set to be released December 11, 2012.
-
Do you think something like the Spore Wars is possible in the near future? Why or why not?
-
Why do you think only Starters and Enders were vaccinated? Do you think that was a mistake? Why?
-
If you were Callie, would you donate your body to Prime Destinations? Why or why not?
-
Did you agree with Helena's plan?
-
What would you like to see happen in the sequel?